Every place has a certain food that you just can't seem to get anywhere else. For New Yorkers it's the bagel. For the French, the croissant. Pão de Queijo (cheese bread) is that food for Brazilians. For years we've gotten by on packaged dough balls from the frozen section of our local Brazilian market. But this weekend we found an old recipe from a friend, and realized we had everything we needed to make it from scratch at home.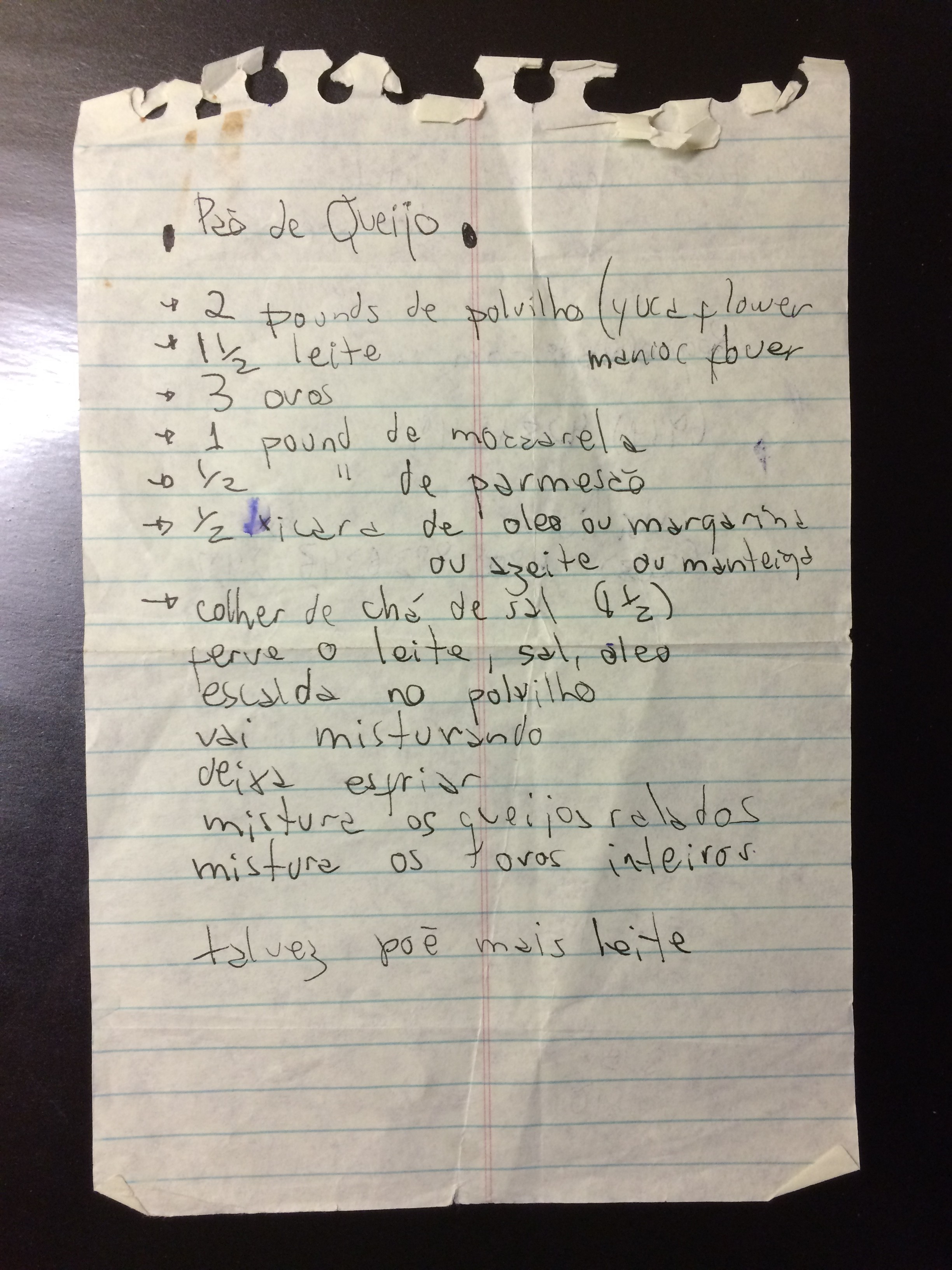 The recipe we started with was a little vague on the details, with ingredients like "1½ milk" (um, one and a half what of milk?) with a later note saying "maybe put more milk". Perhaps as a result of this, on our first try the dough was a bit runny, and the balls spread out into wide, flat domes that didn't look right at all (though they still tasted pretty good.)
We baked our next batches in mini muffin pans, which kept them from spreading out too much. The ones we baked in the silicone rabbit-head mold were particularly fun.
Once we were through with our first batch of dough, we were able to fine-tune the quantities and make a truly perfect pão de queijo worthy of the name, big and round, with a crispy outer crust and a warm, chewy center. For any expat Brazilians living in the US, this recipe is for you!
Pão de Queijo (Brazilian Cheese Bread)
This recipe is easiest with an electric mixer, but can be done by hand with a bit of work.  Makes about 4 dozen. Batter can be formed into balls and frozen for later baking, which is probably a good idea, because 4 dozen is a lot of pão de queijo to eat in one sitting (and you will eat them all, believe me.)
For the cheeses, we used Mexican-style Queso Fresco and Cotija, which can be found in most grocery stores here in California. (We're told you can substitute Mozzarella and Parmesan, but we haven't tried that.)
Ingredients:
1¼ pounds (20 oz., or about 4½ cups) tapioca flour (i.e. one bag of Bob's Red Mill brand).
1½ cup of milk
2 eggs
10 oz. Queso Fresco, finely grated
6 oz. Queso Cotija, finely grated
1/3 cup (about 3 oz., or 2/3 of a stick) unsalted butter
1 teaspoon salt
Preparation:
Preheat the oven to 350ºF.
In a small saucepan, add the milk, butter and salt. Bring to a boil, then set aside.
Put the tapioca flour in the bowl of an electric mixer.
Add the milk, and mix until there's almost no dry flour left.
Let the mixture cool for a few minutes. (Maybe now's a good time to grate that cheese!)
Add the eggs, and mix until evenly dispersed.
Add the cheese, and mix.
For best results, put the dough in the fridge for 10-15 minutes to firm it up.
Hand-roll the dough into small, smooth balls, about 1tbsp each.
Place the dough balls on a non-stick cookie sheet, about 1″ apart. (If the batter's too runny, you can also scoop it into a mini muffin tin.)
Bake about 25-30 minutes, until the tops are golden.
Serve them warm with butter, guava jelly, or Brazilian requeijão!